< Back to News & Events Highlights
Holy Week "Pilgrimage in Place"
Rev. Dr. E. Scott Jones
April 18 2019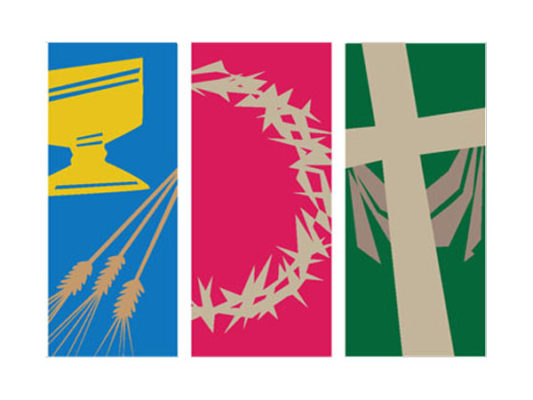 Keeping with our Lenten theme of taking a sojourn, this year for Holy Week we invite you to take a retreat in the midst of your ordinary lives, a "pilgrimage in place."
What is the purpose of the Three Great Days of Maundy Thursday, Good Friday, and Easter?
In Ancient-Future Time: Forming Spirituality through the Christian Year, Robert Webber writes,
"These are days to be set aside to enter into a worship that is the source of our entire spirituality, a moment in time that defines all time for Christians, a moment in time that is the very sum and substance of our spirituality for every season, every week, every Sunday, and every moment of every day." 
In The Three-Day Feast Gail Ramshaw writes,
"The Holy Communion of Maundy Thursday, the devotion of Good Friday, and the celebrations of Easter need one another for each to have its most profound Christian truth."
So, this year we invite you to dedicate the time and the spiritual devotion to joining together in worship.
On Maundy Thursday, April 18, we will gather for a celebratory meal at 5:30 p.m., just as Jesus and his disciples did, as part of their ancient religious traditions.  The Christian tradition on this day emphasizes forgiveness, service, and communion, so this year our focus will be on contemplative and intercessory prayer.
On Good Friday, April 19, we will join in worship at 7:oo p.m. for a time of solemn devotion.  Through music and story, silence and prayer, we will reflect upon the story of Jesus' crucifixion and the Good Fridays in our own lives.
At 6 a.m. on Easter Sunday, we will meet at Prospect Hill Cemetery for our Sunrise Service.  In the darkness, we will kindle the light of renewal for another year as we proclaim together "Christ is Risen!"