< Back to News & Events Highlights
Advent – Guest Columnist, Fred Nielsen
Kerrie Kleppin-Winn
December 9 2020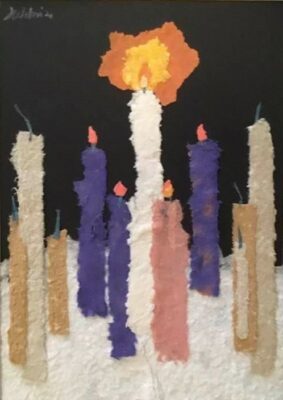 This the first real Advent of my life.
There were other Advent seasons, of course, all of them arriving precisely on schedule according to the liturgical calendar, all of them lasting four weeks. In theory, they were times of waiting and preparing for a promised arrival. In practice, however, those Advents often revealed how impatient we can be. How many of us wait four weeks for the tree and the lights and the Christmas music?
The Advent that began in the spring of 2020 is a profound challenge for those of us unaccustomed to waiting. There is no calendar to tell us when it will end. And so we wait, as most of us have never waited before. We can have new appreciation for a hymn that yearns for the arrival of the "long expected."
It's tempting, and completely understandable, to want the world to return to "normal."  Some are so impatient that they've hardly modified their thinking and behavior. We must live as we always have, they tell us.
But Advent doesn't promise that we can make the world great again by returning to our usual ways of thinking and acting. Advent anticipates the coming of something new, the beginning of something better.
Waiting should never be wasted. Whether stuck in a long line, put on hold, or living in the longest Advent of our lives, we can play music in our heads, we can contemplate, we can think . . . and we can prepare, a central purpose of the season. How and when this Advent ends, and what follows it, will be partly a result of how we prepare now.
Speaking in Memphis on the night before he died, Martin Luther King declared, "The nation is sick. Trouble is in the land. Confusion all around." His words – "the nation is sick" – remind us that while some viruses attack our bodies, there are others that attack our souls and minds. We don't fight them by returning to "normal." That just prolongs the waiting. Because we don't always wait wisely or well, some Advents take a long time to end. King went on to observe that "only when it is dark enough, can you see the stars."  Whether an Advent lasts the liturgical four weeks, 40 years in the wilderness, or the 400 years since the first slave ship arrived in Jamestown, there are stars.
There are always stars.
"It's been a long, a long time coming
But I know a change is gonna come. . . ."
"Come thou long expected. . . ."
"O come, O come. . . ."