< Back to News & Events Highlights
An Interview With . . . Rob Lewis
Rev. Dr. E. Scott Jones
December 7 2015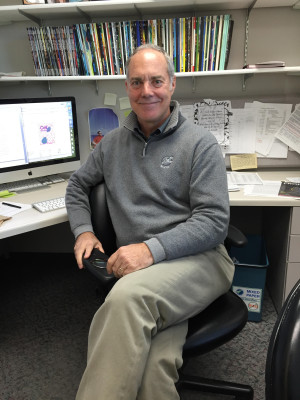 Question: How does church or faith assist you with your work?
Rob: Motivates my actions and behavior.
Rob Lewis describes his occupation as "professor/scientist."  On UNMC websites you can find more detailed, and longer, descriptions:  Professor and Program Leader, Fred & Pamela Buffett Cancer Center and Professor, Eppley Cancer Institute, Department of Biochemistry and Molecular Biology, Department of Pathology and Microbiology, and Leader, Cancer Genes and Molecular Regulation Program, Fred & Pamela Buffett Cancer Center.
Because he gave me very direct (good but short) answers to my questions, I went looking for more information.
Rob runs the Lewis Lab, website here.  Their research is described "Our lab uses biochemistry, molecular biology and cell biology techniques to understand intracellular mechanisms regulating cell growth and differentiation."  And "Using genetically-modified mice and cell lines, the lab is defining novel signal transduction pathways in tumors that may prove therapeutically vulnerable, and identifying physiological mechanisms critical for normal energy expenditure that appear altered in obesity."
Rob also finds time to volunteer at the Watts/Willowbrook Boys & Girls Club and is a huge UCLA fan.
Q: How do you think your work is making a better world?
Rob: Hopefully it shows young kids what's possible.
We are reminded that our congregation is involved throughout our community impacting the world and people's lives.