< Back to News & Events Highlights
From The Health Team: I Don't Know
Kerrie Kleppin-Winn
April 2 2020
Jamie Rudd is a member of First Central, active member of our health team, and accounts her experience working at Nebraska Medicine's Clarkson Family Medicine Clinic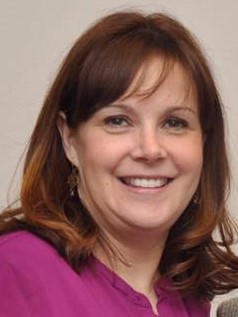 "I Don't Know"
On the afternoon of February 27, my director, Amy, texted me this single sentence at 3 pm: "Is your team ready for two Coronavirus patients?" I was out of the office at that time, at a doctor's appointment for a family member. The rest of text conversation…
Me: Legit?
Amy: Testing. They have symptoms
Me: Maybe??? I hope.
Amy: Who can I call at the clinic?
Me: Rhonda, NCC (Nurse Care Coordinator)
Amy: I know your team is prepared. They got this.
Me: Well, no pressure then?
Amy: 🙂
And that's how it started. With a text conversation on a Thursday afternoon, and then it all went crazy, because of course, we weren't ready. Don't get me wrong, we were as ready as we could be in that moment, but so much has changed, and continues to change daily – or sometimes even multiple times in a single day.
My team at Nebraska Medicine's Clarkson Family Medicine Clinic is at the front and center of this story. I have been the Clinic Manager and Residency Program Administrator at this clinic for nearly 3 years. Formerly an ICU and ED nurse, I am relatively new to the ambulatory medicine world. With 18 support staff, 18 residents and 6 faculty physicians, when we are all together, with our part-time pharmacist, social worker and dietician, we are a team of 46. A super dedicated group where the number of years of service with Nebraska Medicine averages 23 and everyone instinctively knows each other's moods and adjusts accordingly.  At this time, six of Nebraska Medicine's primary care clinics have been designated as "Wave 1 Clinics." We see and potentially test all patients who are symptomatic, but not yet requiring hospitalization. I would be remiss if I didn't tell you about the unwavering bravery of the 5 other bad-ass women managers of these clinics who have shared information, supplies, advice, frustration, tears and sometimes a dark joke with me the last few weeks. Also, our directors Amy and Jared who have been supporting us in every way imaginable and trying to keep up with writing new policy.
As the first location in Nebraska to care for suspected COVID-19 patients that were not in a controlled environment, like those brought to our National Quarantine Unit and The Biocontainment Unit, we had support from our Infection Prevention Team and Infectious Disease physicians however, we hadn't had actual practice with donning and doffing this level of personal protective equipment (PPE). The yearly video we watched during our competency training was far from adequate. So, our medical director, Dr. Scott McPherson and I trained the staff and went over it again and again. Posters were hung and return demonstrations were observed. We required the staff to be observed the first time and we don't let anyone take off their PPE without assistance, no matter how adept they are. I suddenly became aware of the length of facial hair on all the male team members and sent people to shave.
February 27th seems like years ago now. The weight of all that has happened and what is yet to come is overwhelming at times. Normal day-to-day operations of running a clinic have been pushed aside. I wear scrubs to work now and start seeing patients with COVID-19 symptoms as soon as we open. These patients are brought through a separate door and seen in exam rooms in the back of the clinic. My team has been adaptable and flexible, obviously concerned and full of questions, but ready to do the work. What keeps me up at night, are their questions and the number of times a day I have to say "I don't know" when asked a question by my team who relies on me for the correct and most up to date information. We get smarter about the virus every day, but the reality is that the PPE we have to protect ourselves with becomes scarcer and more precious all the time. We have evolved from wearing a new N-95 mask for every interaction with a possible COVID-19 patient to wearing one mask for an entire shift, storing carefully, if needing to take off to eat or drink, and then re-donning. Our masks are packed into a giant tub each night and picked up by a courier where they are taken to main campus to be irradiated in former patient care rooms now painted with reflective paint and a tower of UV bulbs blast the masks hanging from clotheslines for 6 minutes. The masks are returned to before we start work the next day. They smell slightly of ozone like my grandma's old sewing machine.
This week we started another new process of wearing a procedure mask at all times when in clinic except when taking care of COVID-19 patients. From the moment we walk in the door until we leave, we will be wearing these basic masks to protect ourselves from the patients who don't yet know they are sick when they come for a regular appointment, to protect them from us in case we are sick and don't know it, and to protect each other. I communicated this new process out to my team on Sunday by email, but I plan to be there before anyone else on Monday to ensure that we are getting it right as we enter the building for another week.
For us in Nebraska, this is just the beginning. Best estimates are that we will begin seeing the crush of patients within the next 2-3 weeks. What I can tell you is that the level of effort and the brilliance of the people who are working to prepare us, is amazing and makes me so proud to live here and work at Nebraska Medicine. Stay safe.
Jamie Rudd, BSN RN