< Back to News & Events Highlights
From The Health Team – Mask Mastery
Kerrie Kleppin-Winn
April 24 2020
Your mask protects me, and my mask protects you.
I hope you have heard this many times by now. It is the crux of why everyone who goes out of their home should be wearing a mask. So, let's talk about masks.
There is a lot of information out there on the Internet and TV, so many people find it difficult to sort out the basics of what we each need to be doing to protect ourselves, our loved ones, and everyone else. My "go to" site on everything epidemiology-related is the Centers for Disease Control and Prevention, which now recommends that everyone, who goes out into the public spaces, should be wearing a mask.
Here are some questions I have heard, and how they can best be addressed.
I thought that masks were only for healthcare workers and sick people, why should I wear a mask now?
Yes, in the beginning that was true! When it first became clear that there would not be enough masks – specifically medical grade – it was important that they were reserved for health care workers on the front lines and the sick, who otherwise might be spreading the virus. Now we have learned that those without symptoms can spread the virus. Therefore, it becomes critical for all of us to wear a mask when we are out, to know which masks are useful, and how they should be used.
What are the different types of masks for the general public, and which one is right for me?
First of all, the most protective masks, N95 surgical or N95 respirators, actually should be reserved for health care workers, who may be closely exposed to spreaders of Covid-19. If you want to know more about those masks, here is a helpful link. https://www.cdc.gov/niosh/npptl/pdfs/UnderstandDifferenceInfographic-508.pdf
To understand the important steps of protecting ourselves, including the use of masks, here is another user-friendly link. https://www.cdc.gov/coronavirus/2019-ncov/prevent-getting-sick/prevention.html
Within that link, is another link: https://www.cdc.gov/coronavirus/2019-ncov/prevent-getting-sick/diy-cloth-face-coverings.html that discusses the face coverings that should be used by those who must go out of their homes to places such as grocery stores and pharmacies. It also has instructions for making simple face coverings, but please note: T-shirt and other stretching materials are not the best choice of fabric, as they stretch and can let larger particles through.
If I am the only one wearing a mask, does that protect me?
The answer to that one is, to a certain degree. Any face covering will reduce the chances of respiratory droplets from entering your mouth or nose, but the most protective purpose of a mask is to function like a hands-free, and always in place, handkerchief. You know, "Cover your Cough", ALL THE TIME! Consequently, if everyone is wearing a face covering the protection increases exponentially.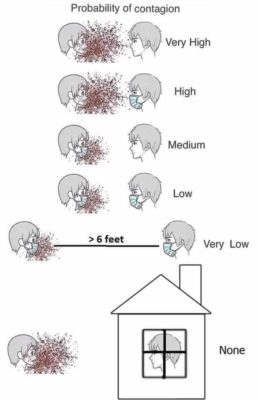 4. If I wear a mask, do I have to stay 6 feet away from others when I'm out of the house?
Distance is the best protection! If you aren't close to someone carrying the virus, they cannot infect you. Face coverings are a second layer of protection. However, in public, you cannot always control how close someone is to you, so try your best to distance 6 feet or more, wear your mask, carefully remove and care for you mask at home, and wash your hands as soon as you take the mask off.  It is recommended that you wash your mask after each use and wear a fresh one the next time you are venturing out.
Finally, after all of that, I cannot recommend the information in this article enough!  Saving Your Health; One Mask at a Time.  It is a little lengthy, but it thoroughly explains everything in very understandable language.  When you can invest 10 minutes to read it, I encourage you to do so.  (Special thanks to Deb Kirwan for sharing it!)
So remember, it might not always be comfortable – or convenient – but it's in everyone's best interest! And if you don't have a mask and need to venture out of self-isolation, please call the church office. There are several talented sewing-minded folks making them. Sara will connect you and make sure you have some.