< Back to News & Events Highlights
New Books on New Shelves – Katie's Musings
Kerrie Kleppin-Winn
March 11 2020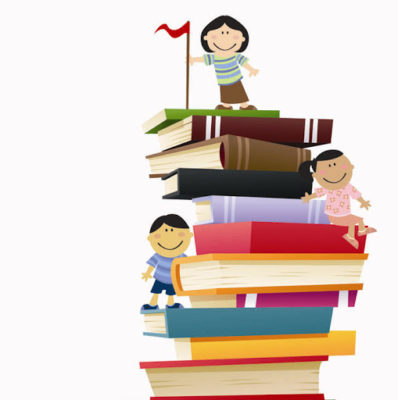 Children's Library Books
If you haven't stopped down by the children's area recently, it's worth a visit!  We've installed a new children's library into where the old coat racks used to be, across the hall from the art room.  The shelving provides ample space for both kid- and youth-oriented books, and we are working on organization to be sure we are using the space in the best and most efficient way possible.
We are also working on adding to our inventory!  Here are some of the new books we have added to our collection, available for checkout immediately:
from the stars in the sky to the fish in the sea
written by kai cheng thom, illustrated by wai-yant li and kai yun ching
In the magical time between night and day, when both the sun and the moon are in the sky, a child is born in a little blue house on a hill. And Miu Lan is not just any child, but one who can change into any shape they can imagine. The only problem is they can't decide what to be: A boy or a girl? A bird or a fish? A flower or a shooting star? At school, though, they must endure inquisitive looks and difficult questions from the other children, and they have trouble finding friends who will accept them for who they are. But they find comfort in the loving arms of their mother, who always offers them the same loving refrain: "whatever you dream of / i believe you can be / from the stars in the sky to the fish in the sea."
When God Made You
written by Matthew Paul Turner, illustrated by David Catrow
YOU, you… God thinks about you.
God was thinking of you long before your debut.
From early on, children are looking to discover their place in the world and longing to understand how their personalities, traits, and talents fit in. The assurance that they are deeply loved and a unique creation in our big universe is certain to help them spread their wings and fly.
Through playful, charming rhyme and vivid, fantastical illustrations, When God Made You inspires young readers to learn about their own special gifts and how they fit into God's divine plan as they grow, explore, and begin to create for themselves.
Maybe God is Like That Too
written by Jennifer Grant, illustrated by Benjamin Schipper
Every child wonders where God lives or what God is like. In Maybe God Is Like That Too, a young boy asks his grandma where God is in their city. She invites him to pay attention to where he sees the fruit of the Spirit. Where love, joy, peace, patience, kindness, goodness, faithfulness, gentleness, and self-control are, there too is God. The boy sees God in the kindness of a doorman holding the door for a man using a wheelchair, in the patience of his teacher helping him tie his shoes, and in the love, faithfulness, and gentleness of his grandma. An ordinary day in his city opens this young boy's eyes to God's Spirit at work all around him
Check out these books and MORE in our children's library!