< Back to News & Events Highlights
Scott's Column: Coronavirus Update
Rev. Dr. E. Scott Jones
March 24 2020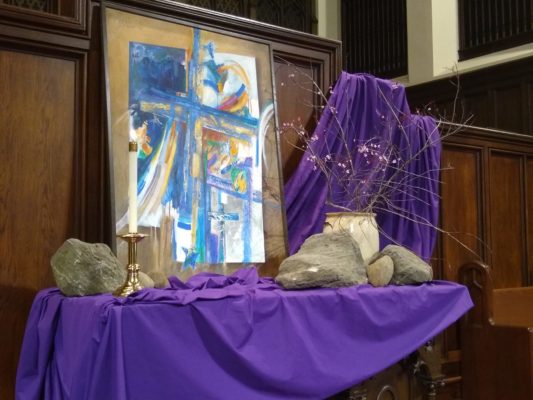 Dear Friends,
We are living in a challenging and confusing season.  Over the last few weeks, the church took action and made decisions based upon the best advice from our public health department.  We've been fortunate in the leadership of Moderator Laura Mitchell.  Laura leads with measured calmness.  Because Laura works at Children's Hospital, she has been up-to-date on the best information about how to manage this moment.  Bonnie Harmon has also been essential.  You may know that Bonnie chairs our Health Team, but you may not know that she's the former Supervisor of Epidemiology and Communicable Disease for Douglas County Health Department .  Bonnie's wisdom, experience, and professional connections have been vital to our efforts to respond appropriately to the virus.  Hopefully you read the excellent letter she wrote for our newsletter last week.  If not, here it is.
We have suspended all in person events, including Worship, Wednesday nights, First Forum, etc.  Local and state officials have ordered that these measures stay in place until the end of April.  The ability for pastors to visit hospitals, nursing homes, and assisted living centers has also been suspended for the foreseeable future, in order to provide greater safety for the residents and patients.
We have been active in adapting our ministry to these changing situations.  We have done our best to transmit the latest and best public health information.  Many church members and the church staff are calling church members and checking on them.  And many of our activities have moved online.
On March 15 we began live streaming our worship service on YouTube. That means you can watch it at home from your computer, tablet, smart TV, or smart phone. Every week we will send out the link in an e-mail (while also posting it on our website and social media sites), but last week there was a last minute technical problem.  The BEST way for you to be sure you be sure you can watch it is to subscribe to our YouTube channel.  You might also want to subscribe to our separate Christian Education channel.
Each week we've had almost 300 people view our worship, which has meant our highest attendances in almost a decade.
Every week we are sharing the bulletin and the music, so you can read and sing along with us.  We encourage some other ways to enhance your worship at home–light a candle, pass the peace by sending messages to one another, donate online, draw pictures to hang in your windows, etc.  On April 5 you'll want to celebrate communion with us at home.  And we have some other ideas in the works for Holy Week and Easter.
I want to thank Garret Higginbotham for all of his technical help with the live stream.  Chad and Laura Mitchell have been serving as our assistants and monitors.  On the 15th Laura was our camera operator.  Kerrie Kleppin-Winn has been doing a fantastic job sending everything out and during the service she's monitoring remotely.  So, if there is a technical issue during the service, please hang with us.  Also don't inundate us with messages as we have a half-dozen people monitoring and working behind the scenes to make it as smooth as possible.  Also know that there are always going to be some technical issues; plus we are all fallible human beings doing a lot of new extra work under trying circumstances.
On March 22, Katie also held a Zoom Sunday school for kids.  This week we are rolling out a Zoom Bible Study on Wednesday at 3 and the Theology Brunch will be held Thursday at Noon.
Also right now our church's Facebook group is very active. Every day we are posting a video devotional/prayer/reading. Plus church members are engaging in online conversation and sharing resources to help through this time. If you have the ability to connect with this activity, I encourage you to do so.
We are also sensitive to those who are not digitally connected with us and doing our best to reach out to them.
If you need help, please let us know.
Peace,
Scott