< Back to News & Events Highlights
Scott's Column: FellowshipOne
Rev. Dr. E. Scott Jones
September 18 2019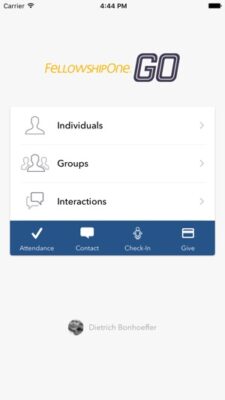 Your ability to get information, interact, and plan together will soon noticeably improve.  We are launching a new Church Management System, the fancy name for the software programs churches use for record-keeping.  What is changing is that the new system is cloud-based and has a mobile app, so every congregant will have access.
First, some background.  In my almost ten years here one of the constants has been improving how we communicate and share information.  This initiative often intersects with technology, as we are constantly updating technology and utilizing new technologies in new and better ways.  In the last few months alone we have upgraded the internal wiring at the church, installed a new phone system, purchased new computers for some of the staff, engaged a professional IT company for ongoing maintenance, begun a redesign of the website, reviewed new communications guidelines, and launched this new church management system.
Our old church database was a few decades old, and I had long wanted to replace it.  As part of the Long Range Plan we identified what we wanted out of such software in order to maximize our ministry goals for the future, so a special task force was appointed and led by Garret Higginbotham to select from the very many options that currently exist.  After months of establishing criteria, researching the various systems available, and a trial period with our final choice, we contracted with FellowshipOne.
All of 2019 we, particularly Sara Sharpe, have been in transition.  Many thanks must go to Sara for her good, hard work of cleaning up our records ahead of the transition, and also to Lou Lamberty who has been transferring accounting systems.
In July we rolled out the new system to the Staff and then Council and Ministry members in August.  We've been tinkering with the system and learning how it works through trial and error (which will continue for a while I'm sure).  And are only just beginning to learn all the new capability it affords us.
And next week it will be your turn.  We will roll out the new system to congregrants.  Next week's newsletter will include more details, but here are the highlights.  We will give you instructions on how to download the mobile app and/or find the site on your computer.  You will receive an e-mail with your username and login.  You'll want to set up your account.  On Sunday, September 29 after church we will have an informational and how-to session in the sanctuary following worship to walk you through it.  Again, next week you'll get much more information about all of this, but I wanted to alert you ahead of time.
What will this enable you to do?  You will have access to your own records and will be able to update them when that is necessary.  You'll be able to see your giving record, track your pledges, and make donations.  If you serve on a team or ministry, you'll have new capacities for group interaction, record-keeping, and planning.  Our calendaring and event capacities will dramatically increase.  You'll be able to set up notifications of events.  And more.  We are just living into this new program and all the capacity it gives us.  There will be some headaches as we figure it out.  But I'm very excited about the ways it has already helped me and will help us improve our ministry in the years ahead.