< Back to News & Events Highlights
Scott's Column: Kentucky Tornado Response
Rev. Dr. E. Scott Jones
December 21 2021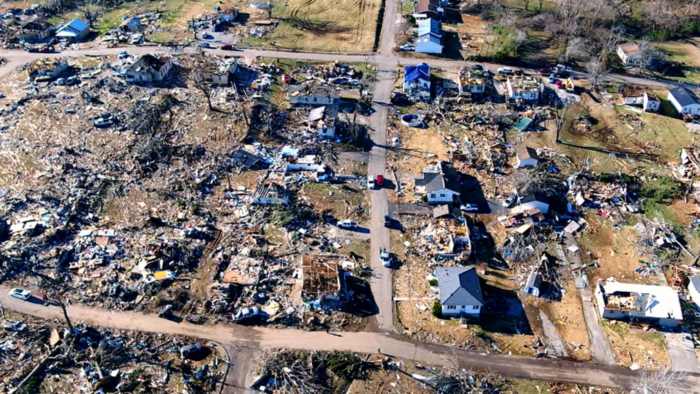 Dawson Springs, Kentucky is a town I know.  You've heard of Dawson Springs in the news lately because it was one of the towns that took a direct hit from the Kentucky tornado.  Reports are that two-thirds of the place, with a population of about 2,500, was leveled.
I know Dawson Springs because one of my childhood best friends moved there thirty years ago.
I met Rob Akers when we were both in sixth grade at Rockdale Elementary School in Miami, Oklahoma.  Rob's family were new to town, his father was pastoring a local Pentecostal Holiness church.  We immediately connected as two religious boys who loved to read.  We especially bonded over The Chronicles of Narnia.  Rob lived about a mile from me, and so most days would find us riding our bikes back and forth between our houses.  This was the 1980's and kids roaming around the neighborhood and dropping into play at friend's houses was still a regular thing.
Sadly, Rob's family moved only a year later, to Prescott, Arizona, but he and I kept up a regular written correspondence.  And a couple of years later when my family took the classic American road trip to California in our station wagon, we stopped in Prescott so I could see Rob.  Our parents had, of course, met, but they had not formed a friendship when both families were in Oklahoma; they did though during that visit to Arizona.  Rob's dad Bob and my dad went golfing together and all of us went to the rodeo.  In 1990 when the Akers moved from Arizona to Kentucky they stayed with us along the way, getting snowed in for a few days as we received a foot of snow—the most I ever remember from my youth in Oklahoma—and the two families engaged in an epic snowball fight.
Once the Akers settled into Dawson Springs, we made regular visits there to see them.  I have fond adolescent memories of riding around town in Rob and Rusty's giant used Impalas, swimming at the nearby state park, and attending a festival in the town square.  I went with them on their family to trip to Washington, D. C., and later I was one of the groomsmen in Rob's wedding.
Our families have remained in contact over the decades and through various life changes.  That might be a surprise in America in 2021.  There are clear differences in our religious beliefs and practices.  Our politics don't align.  Anymore such relationships seem rare to impossible.  Which is one reason I value this old and dear friendship so much.  And even better, Rob and I continue to engage in hearty political discussions, learning from each other why we approach things differently, and looking for the common ground that does exist when you respect and care for one another.
So my heart breaks to see the devastation in this town I have fond memories of and an enduring connection with.  Rob's little brother Rusty is now the pastor of the church their father once led.  Rusty's family and the parents remain living in Dawson Springs. I've been praying for Rusty as a friend and ministry colleague knowing that much is expected of him in the wake of this disaster.  Rusty wrote to me, "The need is so overwhelming right now it is catastrophic. A lot of our congregation are displaced and have lost everything and those of us who did not sustain damage have taken people into their homes."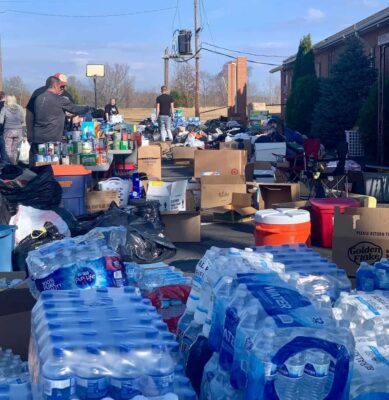 While their church building took some damage, it is intact and has become a distribution point for supplies in the community.  Over the weekend they had food trucks to feed people.  And the congregation is doing everything it can to help.
Of course we have many good options, including UCC Disaster Ministries, to reach out and help in the wake of this catastrophe.  But on Sunday I met with the Outreach Ministry and they agreed that because of my personal connection we have an opportunity to do something unique and special here.  Not only will we be able to get help very directly to the most impacted people, we also get to demonstrate that even at this time of American division, people can reach out across their differences and help one another in the spirit of Christ.
So, on Christmas Eve we will be taking an offering for Kentucky tornado disaster relief that we will then send to the Landmark Apostolic Holiness Church of Dawson Springs, Kentucky for them to use to help their neighbors.
I'm hoping that sometime next spring or summer I might travel there again myself to do something more to help and celebrate our over thirty years of friendship.