< Back to News & Events Highlights
Scott's Column: Ten Years
Rev. Dr. E. Scott Jones
July 7 2020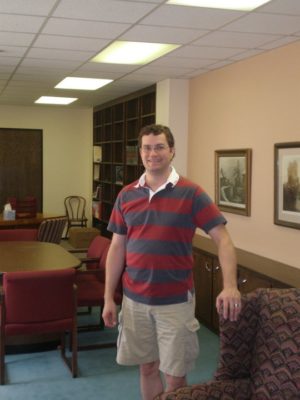 I look so young in that photo.  Which I was.  I was only 36.  That picture was taken the day I first began moving stuff into the Senior Minister's office at First Central.
Ten years ago this week I began working as your pastor.
One day that previous winter I had been looking at the UCC job postings and saw yours listed.  I called out to Michael, who was in our Oklahoma City living room, "What do you think of Omaha?"  After a long pause he replied, "I don't think anything of Omaha."  Neither of us had been here before we came for the in-person interview that March.  And of course it snowed.  That was the year that there were still tall piles of snow in the church courtyard.
Our candidating weekend was at the beginning of May.  So many vivid memories of that weekend; I'll share two.  When the communion elements were brought down the aisle, here came a young Grant Switzer with a box of macaroni and cheese and handed them to me.  Barb had explained the church did this to remind people of the food pantry and to symbolize that our communion table is bigger than just this church.  I also knew that any church which had created this role for Grant was a special place.
And then during communion I looked up to this elderly woman moving as fast as she could with a walker who then yelled out while she was still a good way from me "I'm a Sooner too!"  This was, of course, the indomitable Rev. Dorothy Murdoch Hill.  And right behind her was her husband John (who turns 100 in a few days by the way) who started singing "Boomer Sooner" as he came forward for communion.
All of that a full decade ago now.
I already in my State of the Church address last January reviewed the ministry we've done together.  Instead of doing that again, here are a few random memories that pop into my head:  driving 18 hours in two days with Fred Felger to the Pine Ridge Reservation and back as we got to know each other, Edie Godfrey dropping me and Michael off at the airport as we departed for our delayed honeymoon to Italy, fossil hunting in the East Nishnabotna River with Rick Brenneman and Felix Sihakom, Eliott Mitchell and Bowen Steffen asking tough questions about God when I met with the children to begin rehearsing the program they did on God's speeches from the whirlwind in the Book of Job (one of my crazier ideas that actually worked), rescuing Elizabeth Wearin's dog from a creek after it fell through the ice while we were on a hike during a confirmation retreat, Gary and Kathy McConnell welcoming us to Hawaii with beautiful flower leis, running into Bruce and Karen Garver at Center Church on the Green in Hartford, Connecticut, my mother-in-law's Filipino cooking for Sebastian's baptism, dancing with five month old Sebastian at Desi Fortina's wedding, Kerrie Kleppin-Winn and I emceeing the 160th anniversary dinner trivia contest, Katie Miller's ordination service in Tilden, a picnic and closing worship to the Nebraska Conference Annual Gathering 2018 beside Lake Ogallala, Janet and Andy Acker keeping our dog Nash while our family attended General Synod in Milwaukee last year, Jim Harmon leading the staff on a hike through the Loess Hills in the midst of this pandemic season, . . . and I could keep this going for a while.
Shortly after I moved in, I asked, "When do we take my photo for the wall of pastor's photos?"  I was told, "Oh, we do that when you leave."  I had hoped to have a 36-year-old me hanging on that wall for all time.  Oh well.