< Back to News & Events Highlights
The Love of Children: Backpack Drive
Rev. Dr. E. Scott Jones
August 22 2018
"Beloved, if God so loved us, we ought also to love one another."–I John 4:11
3 Great Loves is our denomination-wide story telling initiative as we share God's love for neighbors, children, and the world as part of our mission A Just World for All.
This year the Nebraska Conference of the United Church of Christ called for all churches to participate in a statewide school supply drive.  Here at First Central we collected supplies for the students and teachers at Parrish Alternative School.  Barb Switzer led the initiative and she wrote,
I was listening to NPR this morning, and they were talking about teachers spending $500 of their own money on their classrooms.  

We had another successful year of school shopping. People always like to do this and I'm often surprised by what kind of things I find in the backpack donations. I'm sure the teachers appreciate having extra pens and pencils.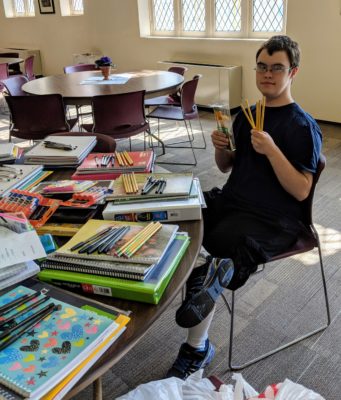 According to Barb our congregants provided 36 complete backpacks, each containing:
1 Binder, 1 package of filler paper, 1 notebook divider, 3 report folders, 3 spiral notebooks, 5 pens, 5 pencils, 1 pencil sharpener, 2 erasers, 2 glue sticks, 1 ruler, 2 highlighter markers, 1 small calculator.
In addition we gave 152 crayons, 75 markers, 13 colored pencils, 36 mechanical pencils, 24 red ink pens, 8 colored pens, 2 packages of index cards, 3 dry erase markers, 1 bottle of glue, 10 sharpies, 6 erasable highlighters, 4 erasable pens, 12 mini gel pens, 2 pencil boxes, 5 pencil pouches, 120 pencil-top erasers, 2 portfolios, and 1 bottle of hand sanitizer.  Wow, that's a lot!
Thank you to First Central for loving God and seeking a just world for all by demonstrating your Love of Children.