< Back to News & Events Highlights
Scott's Column: To Be More . . .
Rev. Dr. E. Scott Jones
March 2 2020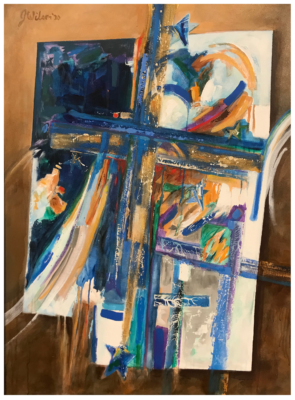 In Sunday's sermon I shared the inspiration for our Lenten theme To Be More . . .   I've posted the story here as well.
Last April I was in Sioux Falls, South Dakota at the First Congregational Church attending a visioning and training session for the directors of the boards of our three United Church of Christ conferences in Nebraska, Iowa, and South Dakota.  During the Saturday sessions our goal was to develop a "Why" statement—why we do the work we do on the conference level of the church.
As is often the case in these sorts of meetings, we were broken up into various small groups seated at tables around the church's fellowship hall.  The facilitators invited us to begin the day's work by telling stories of times in our lives when we were inspired by church.
I happened to be at the same table as Louie Blue Coat.  Louie is a minister in the Dakota Association, serving Virgin Creek United Church of Christ on the Cheyenne River Reservation.  The story Louie shared that day about a time he was inspired by church inspired me in turn.
In 2016 when the Water Protectors were trying to prevent the construction of the Dakota Access Pipeline across the Standing Rock Reservation, an international call went for clergy and faith leaders to gather in solidarity.  More than 500 arrived on the given day, representing 22 faith traditions.
The morning began with a Native American water ceremony.  Then, Chief Arvol Looking Horse invited the clergy to gather around the sacred fire to pray.  And the first person invited to pray was the Rev. Gordon Rankin, then South Dakota's UCC Conference minister.  According to Louie Blue Coat, the crowd grew silent as Gordon spoke and his words inspired and encouraged.
"Who is that?" those around Louie began to ask.  He was proud to respond, "That's Gordon Rankin, my Conference Minister."
Moments later, when the march began, Louie wanted to walk alongside Gordon, but too many people wanted to be near the man who had prayed.
The clergy walked to the site where the Water Protectors and Law Enforcement faced one another.  As they gathered there, in that place of tension, a peace settled over the people. Everything became quiet.  And then an eagle flew overheard.  According to Louie, everyone, clergy, Water Protectors, and police, watched the eagle.
"God was there," Louie said.
Then, he added, "That day, watching Gordon be a pastor made me want to be more, made me want to be a pastor too."
Last year listening to Louie, I knew I'd heard my why.  Why church can inspire people–it calls us to be more. 
This Lent I invite you to listen—God is calling you to be more.  "More what?" you might ask.  Well, that will be unique to you, but each Sunday we'll consider various possibilities, particularly how we as a church together might be or do more on behalf of God's work in this time and place.