< Back to News & Events Highlights
An Interview With… Sally Lewis
Kerrie Kleppin-Winn
March 18 2020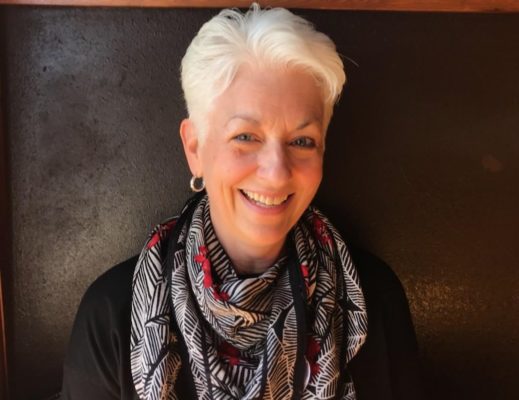 Late last year, the Council – with guidance from the Health Team – asked First Central member Sally Lewis to step into the roll of Professional Heath Advocate to our congregation.  Sally highlighted the details of that role at this year's Annual Meeting in January, but here is a more in-depth look at what that means to you.
Kerrie:  How long have you and Rob (and the girls) been members of FCC?
Sally:  I think it's been about 8 years.
Kerrie:  How did you find us?
Sally:  Lamar Jones. We had been friends with Vickie, so we knew Mar a little bit. When he learned we were looking for a new church, he strongly recommended we visit First Central. Turns out, it was exactly what we were looking for!
Kerrie:  Please tell us a little about your background…job/work experience.
Sally:  For 30+ years, I've done some form of healthcare data analysis and reporting, mostly working in insurance companies. A few years ago, my employer offered a "self-improvement" series that made me realize how personally unfulfilling my job was. (How ironic is that?) While the work was good and I adored my co-workers, I found that the purpose of my job was causing me to serve the wrong population, or at least, wrong for me. I wanted more direct contact with people who were struggling to manage their healthcare concerns, although I was not interested in providing medical care.
Kerrie:  Can you share some details on how/why you learned about Patient Advocacy and give us some highlights of your journey to become an advocate?
Sally:  Around the time of the revelation about my job, I read an article about professional patient advocacy. It featured people who were independent of the medical system who contract with patients to help with non-clinical aspects of their healthcare. Intrigued by this "emerging" profession, I searched for educational resources and found that most programs were on-campus, although a couple had online access. Since Rob wasn't too keen on me spending two years at Sarah Lawrence College in New York, I decided on a new, one-year online program through UCLA. With my background in insurance and ultimate completion of the UCLA courses, I felt ready to offer patient advocacy services to the general public.
Because starting a business of any kind doesn't happen overnight, I soon learned about all of the things required to truly be open for business. Due to the unwavering support from my husband, I was able to get more training and become affiliated with organizations dedicated specifically to the business of patient advocacy. I attended conferences and got professional help in creating marketing materials and a website. Now, I'm actually ready to launch this boat.
Kerrie:  Tell us why you think it is beneficial for FCC to have someone like you in our arsenal of resources available to the congregation.
Sally:  Often patients don't have the time, energy, or knowledge to handle bumps in their healthcare road. It's valuable to have someone who isn't emotionally involved in the case deal with insurance and provider issues. I can help relieve anxiety by handling insurance questions, communicating with doctors and hospitals, researching treatment options, among other things. People in this profession would assert that everyone experiencing a healthcare impediment could benefit from a patient advocate's services.
Kerrie:  Anything else you want to add that I've failed to ask?
Sally:  Even before starting a business, I was able to assist a number of friends and family members who didn't know where to go with their healthcare dilemmas. Folks may be reluctant to seek help with their health-related problems, but I encourage them to just ask. If I don't have the answer, I may be able to find someone who does.